"Mein Weg zu dir" aus der Feder des US-amerikanischen Schriftstellers Nicholas Sparks ist eine unglaubliche Liebesgeschichte, die seinen Lesern die Tränen in die Augen schießen lässt.
Und wer die Romane von Nicholas Sparks kennt, weiß, dass trotz tiefer Gefühle und jeder Menge Herzschmerz die Spannung niemals zu kurz kommt. So auch in "Mein Weg zu dir". Mit einer unerwarteten Wenung der Geschichte und einem sich dramatisch zuspitzenden Ende, möchte man das Buch erst wieder aus der Hand legen, wenn die letzte Seite auch gelesen ist.
Und darum geht´s in "Mein Weg zu dir":
Die beiden 17-jährigen Teenager Dawson und Amanda verlieben sich ineinander und werden, obwohl ihre Familien strikt dagegen sind, ein Paar. Doch die Beziehung hält aufgrund der widrigen Umstände und einem Schicksalsschlag nur ein Jahr.
Erst 25 Jahre später treffen sich die beiden anlässlich des Begränisses eines gemeinsamen Freundes wieder und die verdrängten Gefühle sind plötzlich wieder da und sie wissen, dass ihre Herzen auf ewig verbunden sind.
Doch das Leben hat es mit beiden nicht nur gut gemeint und sie haben in der Vergangenheit Entscheidungen getroffen, die sie inzwischen bereuen. Die Kluft zwischen ihnen ist dadurch nur noch größer geworden.
Kann ihre große Liebe, die schon einmal ihr Leben geändert hat, die Vergangenheit überwinden und eine neue Zukunft für Dawson und Amanda schaffen?
Taschenbuch: 416 Seiten
Verlag: Heyne Verlag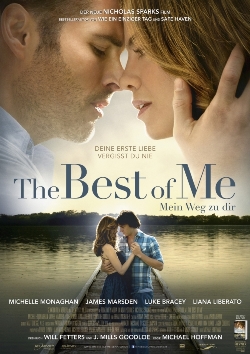 Am 8. Januar 2015 startet nun die Verfilmung von Nicholas Sparks dramatischer Liebesgeschichte in den deutschen Kinos.
Unter der Regie von Michael Hoffman werden in dem Kinostreifen eben die in der Romanvorlage beschriebenen Gefühle perfekt visuell abgebildet und die Kinobesucher können in überzeugend dargestellter unschuldiger Romantik schwelgen.
Auch die aussagekräftigen Darsteller tragen zu der stark emotionalen Wirkung bei.
Regie: Michael Hoffman
Schauspieler: James Marsden, Michelle Monaghan, Liana Liberato, Luke Bracey, Sebastian Arcelus, Gerald McRaney
Länge: 118min
Hier gibt´s den Trailer zur Kinoverfilmung "The Best of Me":
Über Nicholas Sparks
Nicholas Sparks ist ein US-amerikanischer Schriftsteller, Drehbuchautor und Produzent, der vor allem für seine romantischen Romane bekannt ist. Seine Bücher wurden weltweit mehr als 105 Millionen Mal verkauft und in mehr als 50 Sprachen übersetzt. Er hat außerdem über 20 veröffentlichte Bücher verfasst, die alle Bestseller der New York Times waren. Zu seinen beliebtesten Werken gehören ""Wie ein einziger Tag", "Nur mit Dir – A Walk to Remember" und "Mit dir an meiner Seite" .
Die Geschichten von Sparks drehen sich oft um Themen wie Liebe, Tragödie und Schicksal, was sie perfekt für Filmadaptionen macht. Er hat mehrere seiner Werke mit großem Erfolg an den Kinokassen verfilmen lassen.